Jammu and Kashmir Light Infantry: Balidanam Vir Lakshanam
As tourists throng the world's highest battlefield, Siachen Glacier, they gaze up at the Bana Top at a height of 23,000ft. The sheer beauty of the place is enchanting, but they cannot wait to get back to their warm tents and their cups of tea. Instantly, they are reminded of Param Vir Chakra Naib Subedar Bana Singh, after whom the highest post on Siachen is named, and his unequivocal determination and courage in the face of enemy soldiers, without eating a meal for 3 days and returning victorious. He represents the valour and prowess of the regiment he belongs to- the Jammu and Kashmir Light Infantry (JAK LI)
An infantry regiment of the Indian Army, the regimental centre of the JAK LI is at Awantipora in Srinagar's Airport Complex along with a winter setup near Jammu. Its regimental insignia comprises a pair of crossed rifles. Most of the regiment consists of volunteers from Jammu and Kashmir and it is one of the most decorated regiments of the Indian Army with 1 Param Veer Chakra, 14 Maha Vir Chakra, 40 Vir Chakra and 83 Sena Medals.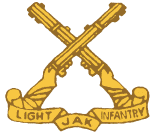 JAK LI regiment's insignia
History
During the Pakistani invasion of Kashmir in 1947, locals from the area picked up arms and fought against the invaders themselves. These volunteers were called National Home Guards in Kashmir while in Jammu they were called Border Defence Scouts. It is interesting to note that these militias also had women fighters. They were later joined by Poonch Scouts, Nubra Scouts and Leh Militia to form what was then called Jammu and Kashmir Militia. J&K Militia became a paramilitary force under the Ministry of Home Affairs and its battalions were scattered all across J&K.
J&K Militia's contribution was not limited to national security, they actively assisted civilians during natural calamities as well. In the Sino-Indian War of 1962, the 7th and 14th Battalions of the J&K Militia were awarded 5 Maha Vir Chakra and 10 Vir Chakra. This was a testament to the prowess of these volunteers and a rare honour for an irregular force. These two battalions were then spun off to form the Ladakh Scouts.
J&K Militia troops played a major role in the Indo-Pak War of 1965 and earned 3 battle honours during the Indo-Pak War of 1971. There was a growing sentiment among troops that given their performance and sacrifice in these wars, they deserved the dignity and privilege of a regular army unit. With this in mind, the then head of J&K Militia, Brig Lekhraj Singh Puar, an officer of the Garhwal Rifles who was on deputation to the Ministry of Home Affairs, presented plans to the Ministry for the conversion of the militia into a regular army unit. On 1 December 1972, the Jammu and Kashmir Militia was formally inducted into the Indian Army as a full-fledged regiment and in April 1976, it was renamed as Jammu and Kashmir Light Infantry. Its motto is Balidanam Veer Lakshanam (Sacrifice is the characteristic of the brave).
Training and Set-up
Recruits who join JAK LI are trained at its regimental centre in Awantipora, on the outskirts of Srinagar. While its location presents certain issues such as a small training area and an almost constant security threat, the centre provides a wide range of training for CI/CT operations, mountain warfare, jungle warfare, etc.
A JAK LI recruit during the passing out parade of recruits at the JAK LI regimental training centre
The training of recruits is about 9 months long and is divided into two phases:
Basic training (19 weeks)

Advanced training (15 weeks)
Training focuses on building a high level of physical fitness, achieving greater handling of weapons and accurate firing, and mastering battle craft and field craft which allow a soldier to achieve objectives in any environment. About 60-70% of soldiers are posted to field areas right after their training.
The JAK LI regimental training centre also houses numerous children who have been affected by militancy in Jammu and Kashmir. The centre has an army school and a hostel that provides education to these children and shelters them. The centre also houses families of martyrs.
The training centre is also renowned for a unique set-up called the MMG – Mandir Masjid Gurudwara. All officers, JCO and ORs of the regiment and their families pray under one roof. This sends a message of peace and unity among all communities for the entire country.
Engagements
Siachen Conflict
In 1984, units of JAK LI were deployed to the Siachen Glacier as part of Operation Meghdoot. In April 1987, the 8 JAK LI was given the task to capture Quaid Post, which was held by Pakistan and located at 22, 153 feet. It was surrounded by 457m high ice walls that had an inclination of 80-85 degree. In a daring operation, 8 JAK LI managed to capture the post and it was later renamed Bana Top in honour of Sub Maj Bana Singh, PVC whose team launched the final assault.
Kargil War
12 JAK LI put on an exceptionally gallant performance to capture Point 5203 on the night of 10/11 June 1999 and Point 4812 on the night of 30 June/1 July 1999 in Batalik. The unit was awarded a "Unit Citation" by the Chief of Army Staff. Captain Keishing Clifford Nongrum was awarded the Maha Vir Chakra posthumously for his actions during the battle of Point 4812.
United Nations Peacekeeping Missions
JAK LI units have also been deployed for United Nations Peacekeeping Missions in Somalia and Sri Lanka as part of India's Peacekeeping Force.
Notable Personnel
Subedar Major and Honorary Captain Bana Singh, PVC
Born in Kadyal in Jammu and Kashmir on 6 Jan 1949, Bana Singh enrolled in the Indian Army in 1969 into the 8th Battalion of the Jammu and Kashmir Light Infantry.
In June 1987, then Nb Sub Bana Singh led a 5-man team to launch an assault on Quaid Post, a crucial position that had been captured by Pakistan in a strategically important area in Siachen. Nb Sub Bana Singh's team climbed a 457 m high near-vertical ice wall which stunned the enemy and led to the capture of Quaid Post. Bana Singh was awarded the Param Veer Chakra and Quaid Post was renamed Bana Top in his honour.
Naib Subedar Chuni Lal, AC (Posthumous), VrC, SM
Naib Subedar Chuni Lal of the 8th Battalion, JAK LI is one of the most decorated soldiers of the Indian Army. He was born in Bhaderwah in the Doda district of Jammu and Kashmir and joined 8 JAK LI in 1984.
In 1987, Nb Sub Chuni Lal was part of Operation Rajiv in Siachen during which Pakistan's Quaid post was captured and subsequently renamed Bana Top. He was awarded the Sena Medal (Gallantry) for his actions during the operation. In Aug 2000, he thwarted an attempted intrusion by the Pakistani Army in which 12 enemy soldiers were neutralised for which he was awarded the Vir Chakra. In June 2007, Nb Sub Chuni Lal was involved in an operation in Kupwara in which he rescued two injured soldiers and killed three terrorists. Unfortunately, he was grievously wounded and succumbed to his injuries. He was awarded the Ashok Chakra posthumously.
Lieutenant Triveni Singh, AC (Posthumous)
Lieutenant Triveni Singh was born on 1 Feb 1978 in Nakum, Jharkhand and was commissioned into the Indian Army on December 8 2001 in the 5th Battalion of the Jammu and Kashmir Light Infantry.
On 2 Jan 2004, two terrorists attacked the Jammu railway station. On hearing news of the attack, Lt Singh led his Quick Reaction Team and reached the station in 10 minutes. In the ensuing operation, Lt Singh killed both terrorists before succumbing to his injuries. He was awarded the Ashok Chakra posthumously.
Lance Naik Nazir Ahmad Wani, AC(P), SM & Bar
Lance Naik Wani was a highly decorated soldier of the 162 Infantry Battalion (Territorial Army) JAK LI. A former militant, Wani had surrendered in 1994 and joined a pro-government militia group. After the group was disbanded by the Jammu and Kashmir government, Wani joined the 162 Inf Bn (TA), a Territorial Army battalion of JAK LI in 2004. He was awarded the Sena Medal twice - in 2007 and 2018 - for gallantry.
In November 2018, L/Nk Wani was deputed to 34 Rashtriya Rifles and was part of Operation Batagund. In the joint-operation, 6 high profiled terrorists of Hizbul Mujahideen and Lashkar-e-Taiba were killed. Wani rescued an injured soldier, killed two terrorists and prevented the escape of others before succumbing to his injuries. He was awarded the Ashok Chakra for his gallant actions and became a source of great inspiration for Kashmiri youth.
The aforementioned courageous men add a few more feathers to an already well-decorated hat of the JAK LI, and we can rest assured that they will continue to keep us safe and achieve many more victories for the nation.
References
https://www.epicon.in/tv-shows/regiment-diaries/season-2/e1-jammu-and-kashmir-light-infantry
https://web.archive.org/web/20090619093450/http://www.indianarmy.nic.in/infantry/inf_jakli.html
https://web.archive.org/web/20140224074306/http://www.bharat-rakshak.com/LAND-FORCES/History/1984/290-Confrontation.html
https://www.rediff.com/news/2004/jan/22ashok.htm
https://www.globalsecurity.org/military/world/india/rgt-jakli.htm
https://theprint.in/defence/lance-naik-nazir-ahmad-wani-a-former-terrorist-now-an-ashoka-chakra-awardee/182450/
https://www.honourpoint.in/profile/naib-subedar-chuni-lal-ac-sm-vrc/
https://www.thebetterindia.com/123693/bana-singh-indian-army-param-vir-chakra-hero-1987-siachen/
https://www.honourpoint.in/profile/capt-keishing-clifford-nongrun-mvc/
https://economictimes.indiatimes.com/news/politics-and-nation/siachen-worlds-highest-battlefield-now-opened-for-tourists/articleshow/71688660.cms
Image sources
https://upload.wikimedia.org/wikipedia/en/c/cc/Nazir_Ahmad_Wani.jpg
https://www.gallantryawards.gov.in/sites/default/files/31_3.jpg
https://upload.wikimedia.org/wikipedia/en/thumb/f/f2/Naib_Subedar_Chuni_Lal.jpg/250px-Naib_Subedar_Chuni_Lal.jpg
https://upload.wikimedia.org/wikipedia/commons/2/2a/Bana_Singh_PVC.jpg
https://imagevars.gulfnews.com/2019/12/07/20191207123L--Read-Only-_16ee0bd158e_original-ratio.jpg
https://upload.wikimedia.org/wikipedia/en/9/99/JAK_LI_Regiment_Insignia.gif